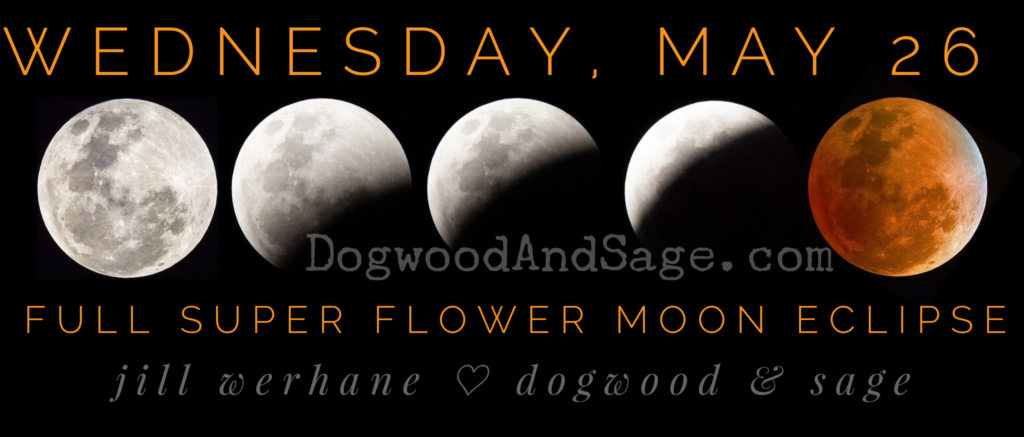 Wednesday, May 26 (mst)
"Full Super Flower Blood Moon Total Lunar Eclipse"
That's a mouthful!
and… what does it all mean?
May's full moon is called the FLOWER #MOON.
This Full Moon peaks to its fullest point at 7:13am U.S. Mountain Time, 5/26
(After the eclipse end)
A lunar eclipse occurs when the moon moves into the Earth's shadow…
And the Earth's shadow blocks the sun's light, which otherwise reflects off the moon causing it to "shine".
There are three types — total, partial and penumbral — with the most dramatic being a TOTAL LUNAR ECLIPSE, in which Earth's shadow completely covers the moon.
Unlike solar eclipses, lunar eclipses are safe to view without any eye protection or special precautions,
The moon has an elliptical orbit. Sometimes it is closer to the earth than others in its approach.
The SUPER MOON occurs when the full moon's approach is at its closest points to the earth.
This makes the moon seem bigger than an average full moon.
The larger-than-average full moon will pass through Earth's shadow causing it to temporarily appear red.
(more orange really)
Hence the name "BLOOD MOON"
In NEW MEXICO,
the eclipse should begin at about 3:44 a.m.
Ending by 5:25 a.m.
with the sweet spot being around 5:11am
~ Jill
???????????
#moonwitch #hedgewitch #psychic #channel #energymedium
guidance #fullmoon