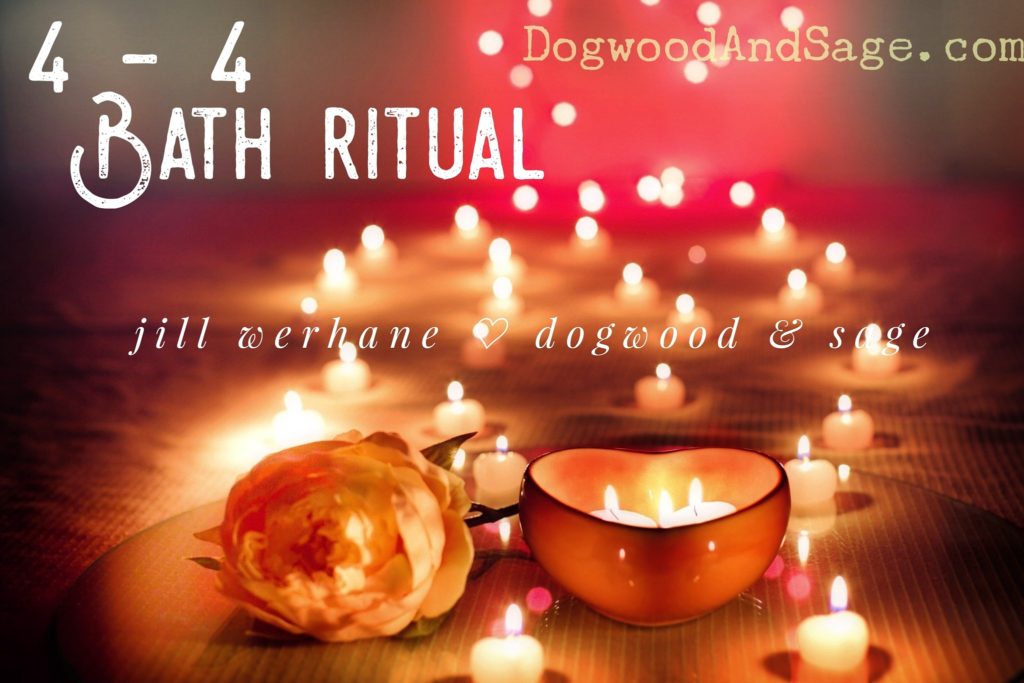 4-4 RITUAL BATH
We are in a power day
within the month of February
A month of CLEANSING and PURIFICATION, and of heart chakra expansion.
This month we
NURTURE the first moments of spring energy, while still honoring the slower pace of winter.
Part of the power of this 4-4 day is in bringing the intangible to a more solid form.
We can help to set this in motion while supporting the other energies of the month through ritual,
such as this love affirming and
creation energy expanding bath.
Do this bath ritual tonight, or anytime this month.
What you'll need:
CANDLE(s)
SELENITE – for outside the tub by candle (do not submerge, water may damage it)
Selenite is clearing and an amplifier. It represents spiritual purity, light, and connection to the moon and the angelic realms.
(Clear quartz works as a replacement)
AMETHYST
In tub or outside of tub
Soothes, balances… emotions, stress, energetic fields… it activates spiritual awareness and opens intuition.
ROSE QUARTZ (optional)
Reinforces the heart chakra and love
… trust, harmony, peace…
Self-love and partnerships
For detox, cleansing, skin nurturing
SALT
Or
BAKING SODA – a whole small box
ROSE
petals and/oil
or tea (3 bags steeped)
Rose is a power player.
When using it to connect to the heart chakra it will clear, expand and fortify love and connection while also bringing the courage and discernment to be bold or soft when needed. While increasing protection and happiness.
ORANGE
sliced thin in full circle slices
Citrus is extra magical in winter, and like rose is a powerful addition.
Besides being a mood lifter filled with antioxidants that will benefit the body during this bath,
orange, too, aligns us with love and brings cleansing, clearing, protection.
It enhances the power of intention as it connects us with abundance and prosperity.
*** The process ***
Light the candle
Draw the tub.
As you add the elements to the water, consider their properties and your intentions for the bath.
Once in the tub,
Let its heat warm you and softener any areas that are tense.
Focusing on the heart chakra – the chest, lungs, back and even the shoulders
Breathe in the aromas,
the in the warmth
call love, comfort and support
to yourself.
Connect this energy with the body, the spirit and the mind by simply allowing yourself to get lost in the idea that whatever you imagine you can create.
If you have set a specific intention, spend time with that, as well.
When you are done, be sure to give thanks before blowing out the candle.
Be sure to maintain this calm living energy you've called to yourself throughout the night
Warm tea is a welcome addition to this ritual. A lovely orange spuce or rose blend compliments nicely.
Be sure to drink plenty of water beforehand and the following 24 hours.
~ Jill 💖
Channel ☆ Psychic-Medium ☆ Energy Worker