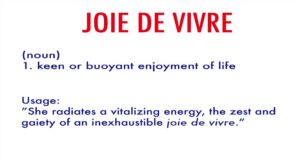 "JOIE de VIVRE"
The joyful spirit of life…
that which makes your soul sing…
is beckoning us to engage.
The New Moon is Sunday.
The final one of this calendar year. It is moving us into the closing cycle of 2017.
This "END CYCLE" began yesterday
(As moon energy always enters 3 days prior, and lingers 3 days past it's "peak").
It will be enhanced by the Solstice (12/21) – where we welcome the Sun (The Son) and the return of the Light (life)
Guiding us to the ILLUMINATIONS of the Full Moon on January 1st, and
Carrying us through to it's "CONCLUSION" on Jan 12/13
the entry window of the first New Moon of 2018, which falls on Jan 16th.
This cycle is about fully engaging with
the joy in life,
the gifts of nature,
the connection with spirit and the mystical realms.
It is about opening the heart,
Expanding heart energy…
LOVE…
&
WELCOMING
the blessings that await those who are willing to let go of hurt, anger, animosity, judgement, bigotry…
"Joie de Vivre"
Asks us to laugh, to play, to dream…
It asks us to lay down the sword.
To lighten the heavy heart.
To step out of the shadow of the dark energies that seek to take over the spirit of the collective.
To step into – and take on, the light.
To grow.
To evolve further into BEing a radiant SOURCE
Of LIFE & Living
Of Love & LIGHT
The Guardians say:
"The Love and Light of life is in living.
The beauty is in BECOMING."
~ Jill ♡
Private readings may be booked here