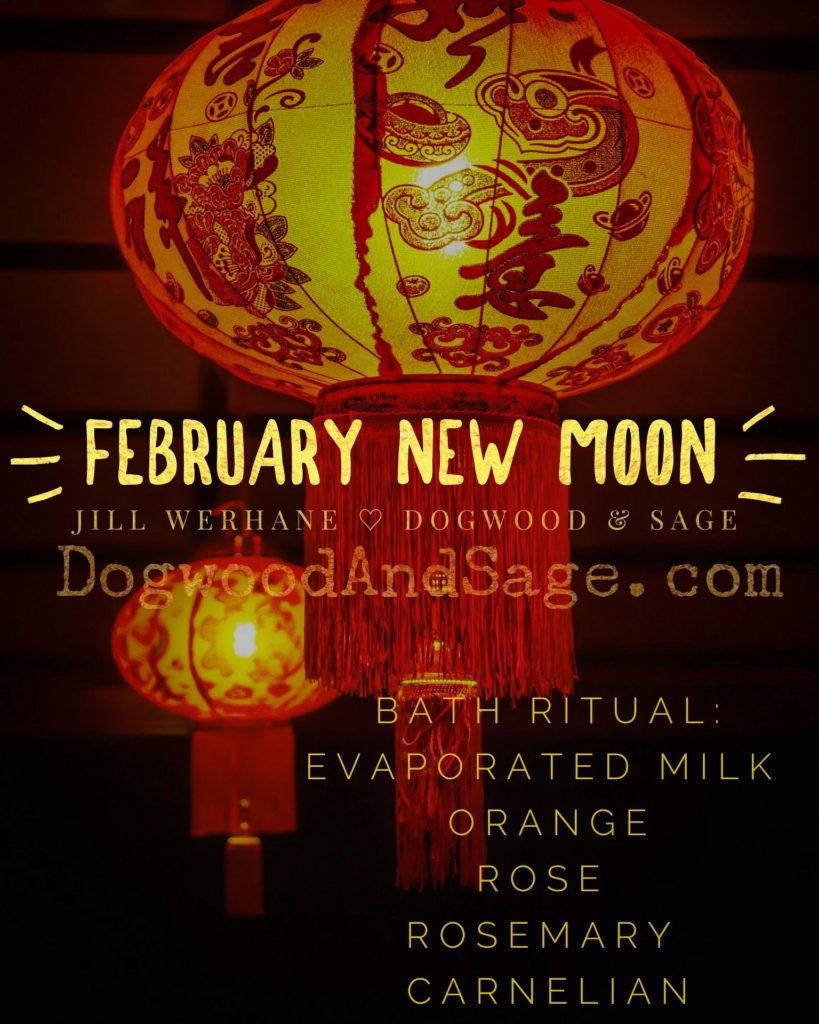 Happy New Moon in Aquarius!
Chinese Lunar New Year of the Ox begins tomorrow.
New moons bring a fresh start,
a new cycle of opportunities and manifestation.
Coupled with the start of the lunar new year, this one feels like it is initiating an especially auspicious period.
However, as they say, timing is everything.
This new moon would like us to take brief pause before moving forward.
Making today a day of rest and nurturing,
and tomorrow, the Lunar New Year,
the starting point to get out there and make things happen.
TODAY until tomorrow evening,
spend some time in a transitional state. Daydream.
Allow whatever comes.
Trust in the process.
Avoid getting caught up in limiting thoughts & beliefs, grasping, and fear.
A new moon bath ritual seems a great way to assist and appropriate for this Aquarius moon.
THIS NEW MOON
does have some unpredictability which could bring some difficulty
("We make plans and God laughs.")
BUT
because this moon also
encourages us to step out of our comfort zone and shake things up a bit…
to do things a bit differently, approach things from different angles, or to try something new,
to change up our daily routine…
the UNPREDICTABILITY can be an ally to help facilitate exactly what we need (which is basically how we should always look at life's upside and downs)
Though big action has it place, much of what is asked can be done in small ways throughout the days of the waxing phase.
With this,
We are still in Mercury Retrograde, which adds to the unpredictable nature this moon brings.
So be sure anything initiated considers not only letting go but the lessons of the past.
In order to utilize M.R. to the fullest (and avoid a do-over later) go back over plans, improve upon them, and streamline to make the space for
"This or anything greater."
February New Moon BATH RITUAL ingredients:
Candle
1 can evaporated milk ( or 1 cup milk, milk powder, or rice milk)
orange slices or essential oil
rose
fresh Rosemary
carnelian

BATH RITUAL
Do this today and anytime throughout the weekend. Or alternatively with the ritual bath for February posted earlier this month
CARNELIAN – a balancing stone, Root Chakra, brings warmth and joy, restores vitality, assists motivation and positive energy, stimulates creativity, courage, gently assists trauma healing
MILK – Abundance, nourishment, detoxify, helps to settle and ground "electric" currents moving through the body
ROSEMARY – lunar herb, Goddess Venus, abundance, protection, cleansing, purifying,
ancestral support, memory/ recall, enhances dreaming/daydreaming, wards off nightmares
ROSE
petals and/oil
or tea (3 bags steeped)
– Rose is a power player.
When using it to connect to the heart chakra it will clear, expand and fortify love and connection while also bringing the courage and discernment to be bold or soft when needed. While increasing protection and happiness.
ORANGE
Slices, zest, or essential oil (or juice)
Strongly associated with Asian Culture
Citrus is extra magical in winter, and like rose is a powerful addition.
Besides being a mood lifter filled with antioxidants that will benefit the body during this bath,
orange, too, aligns us with love and brings cleansing, clearing, protection.
It enhances the power of intention as it connects us with abundance and prosperity.
*** The process ***
Light the candle
Draw the tub.
As you add the elements to the water, consider their properties and your intentions for the bath.
Once in the tub,
Let its heat warm you and soften any areas that are tense.
Focusing on the lower chakras – the seat and belly regions
Breathe in the aromas & warmth,
call love, comfort and support
to yourself. Gently work through any fears or limitations
Connect this energy with the whole body, the spirit and the mind.
Then allow yourself to get lost in a dreamlike state
If you have set a specific intention, spend time with that, as well.
When you are done, be sure to give thanks before blowing out the candle.
Warm tea is a welcome addition to this ritual. A lovely orange spice, rosemary*lemon*honey, holy basil, or Egyptian Licorice are suggested.
Be sure to drink plenty of water beforehand and the following 24 hours
Jill 💖
Channel * Psychic-Medium * Energy Healer