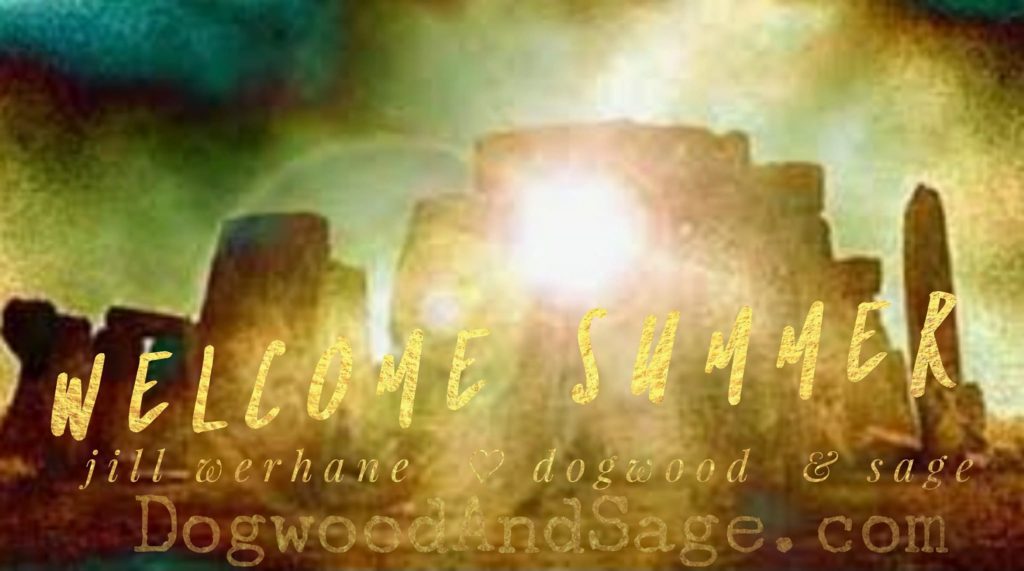 ☀️ Blessed Summer Solstice ☀️
Feel the light within you shining,
Expansive with abundance and limitless potential.
Magic abounds!
This day of longest LIGHT is
one of the main markers on The Wheel of the Year,
Bringing the first day of summer
while moving us towards the "balance" of the fall equinox.
Midsummer Eve ushers in the longest day and a season of GROWTH,
RENEWAL and
ABUNDANCE
that help us stay inspired,
celebrate in the outdoors,
spend more "hands on" time with nature, and enjoy the sweet scents of the season.
The word solstice comes from the Latin solstitium, from sol (sun) and stitium (to stop), reflecting the fact that the Sun appears to stop at this time.
Summer Solstice reminds us that we are intertwined with a long history of seasons and cycles in our shared landscapes.
Summer Solstice is a time to celebrate what's new, what is coming, where your transition is taking you, and what's next.
It's a time for gratitude for the many gifts and support received along the way.
This day begs us to get outside and celebrate the sun, the earth, and our connection to them.
It is a great day for RITUAL or make a "pact" with the universe.
Our agricultural roots remind us that this is a time for garlands made of St. John's wort, mugwort, and lavender.
Gardens offer up hollyhocks flower dolls, chive vinegar, yarrow and plantain salve, strawberry shortcake, elder-flower fritters and cordial, lavender wands and an abundance of summer greens and lush floral bouquets to share with friends and family.
The abundance of fragrant, colorful and styptic rose petals available would be distilled, infused, tinctured, and strewn on summer salads, floors and pathways.
This is a day to be with your tribe those like-minded souls who love and support you,
to celebrate the the gifts that have brought you to this moment,
and to welcome the promise of summer.
This is a time of renewal & REPLENISHMENT.
It's also a time of deep release as to what is no longer benefiting you.
May this Solstice carry the reminder that the wheel of life is much larger than us.
Seasons roll on.
Humanity gets more and more complicated.
Perhaps the best we can do is cultivate our own inner garden and, if possible, our own little patch of earth
and grow ourselves and our surroundings a little better each year.
Let us give thanks to the warmth of the summer,
the guiding light of the sun, and
the pure light within.
May your find unexpected magic in your own back yard, and within yourself
☆ The solstice also brings a Solar Eclipse, and is under the Dark Moon. For more guidance on that read yesterday's post. ☆
~ Jill ☀️🌑☀️
Private readings available
*** Don't forget events at Stonehenge are being livestreamed today for thd first time ever. Consider taking some time to tune in to this ancient, sacred site and absorb some of its beautiful, light-filled energy