{#GUIDANCE 5/21 to 5/28}
This weeks guidance includes
the New Moon in Gemini on Thursday, May 25 (my birthday! Wheeeee….)
Finally we can see a real shift in the muck of chaos we have been experiencing. (Though this doesn't mean chaos isn't still around.)
Expect…
CLARITY
BREAKTHROUGHS
CREATION through CREATIVITY
And some profound "truths" will come to light
Lots of Gemini qualities moving in with this Gemini Moon,
especially the ability to play multiple different roles seamlessly while staying within "the flow".
For once, Gemini is feeling more naturally grounded.
Still it will be important to pay attention to our personal grounding needs.
Stronger movement through aerobic exercise or dance will be most beneficial in keeping us closer to earth, settling that flighty energy, and pushing through (& out) what needs to be "moved on"…
Especially for those not used to functioning in the multidimensional, multilevel, multi-tasking… airy realms of the "Gemini way"
(Remember Gemini is a symbol of duality)
This is where the push of the past few months to practice giving "space for consideration" also plays out its need to now BE second nature…
Be wary of acting on impulse.
Normally a gift of the Gemini energy,
it may not be suited to this particular time
– or again for those not used to that particular trait.
However, do not let that be an excuse not to be brave, vulnerable, or to take risk.
The key, once again, is to give space for consideration (and clarity) before acting.
Slow down time
– through pause and breath,
allowing yourself to take in this influx of creative energy from multiple angles and directions,
and expand upon them.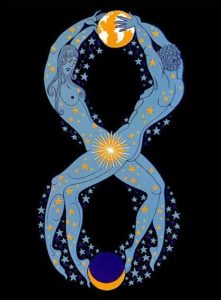 With so much coming in so quickly it can be a bit challenging to discern what is fact or truth.
(Illusions – Coyote)
Trust your intuition, your heart
and connect with
ARCHANGEL GABRIEL – "The Messenger".
Archangel Gabriel will also assist with
"Laser focus" and prioritizing.
* Go after what you want
but be mindful of Ego's desire to rule over the Highest Self. *
Keeping a sense of humor
and a free spirited… "no worries" vibe
will also help those falsehoods and illusions
– which are meant to distract and detour us, to flutter by…
BUTTERFLY also appears as a totem for the week and the moon.
Butterfly brings a natural lightness of spirit.
It helps us to be more naturally social, colorful and vibrant. They endeavor to live each moment to the fullest, and push us to the same.
COYOTE is here as well.
Playing the trickster,
and
bringing out some playfulness,
While
helping us to confront our own shortcomings,
to see where/how we are misled, and to recognize and confront illusions.
Coyote can be (purposefully) misguiding
(Pay attention to how people in your life may mirror this "purposeful misguiding")
BUT he is also the Magician.
If we are mindful, respectful, humble, courageous…
Coyote will teach us some of his secrets.
As with all New Moons, this is the time to plant the new seeds of intention, start upon a new path… and to reset and renew our dreams.
"This or anything greater."
Of NOTE:
The moon energy is coming in earlier and lingering longer this time – through the Monday the 29th.
This longer duration & intensity than the "normal" moon phase makes it a more excellent time for ritual.
…AND finally
I'm sensing a BIG SURPRISE on – or just before, the 31st.
~ Jill ♡
If you would like a reading, you can book a private phone session at 25% off – through 5/31, by following this link.
https://dogwoodandsage.com/purchase/may-special-25-off/